The Importance Of Custom Web Development Services




The Importance Of Custom Web Development Services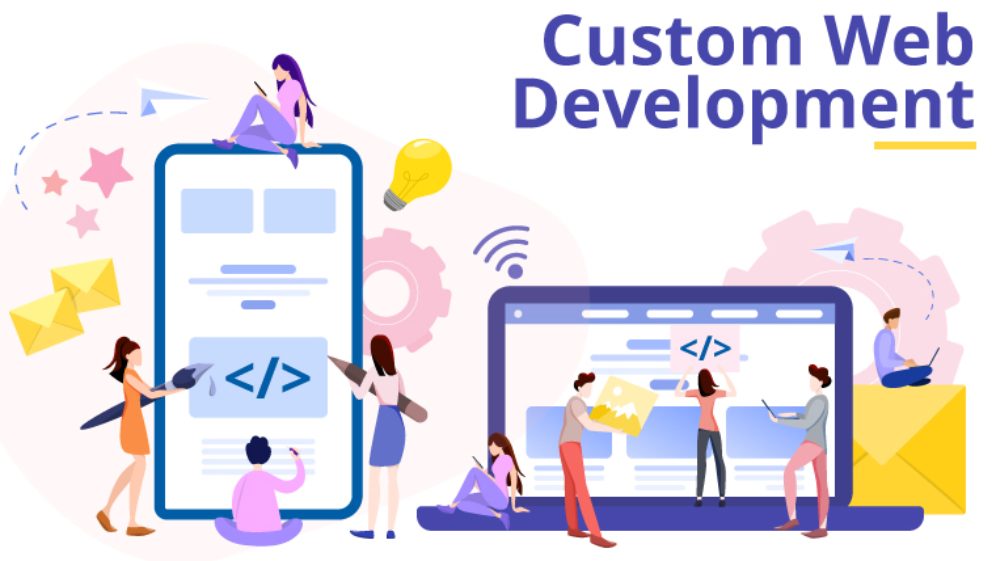 In a world where digital interactions are the norm, custom web development services are a powerful tool for achieving your online objectives, be it attracting customers, disseminating information, or facilitating transactions. They empower businesses and individuals to create a unique and effective online presence that resonates with their target audience and drives success in the digital realm. 
1. What is custom web development services
Unlike off-the-shelf website solutions or templates, custom web development involves crafting a digital presence from the ground up, tailored precisely to the client's objectives, branding, and functional requirements.
Custom web development refers to web design created by web designers. Such WordPress or Magento platforms often provide users several free templates to build a website. However, a custom web development services company will help you create a 100% customized website that is suitable for your needs from A to Z including design, structure, content, graphics, etc.

In other words, custom website development is a tailor-made website. The interface of websites will be designed depending on the different interests and requirements of users.
2. Advantages and disadvantages of custom web development services
Custom web development services offer several advantages and disadvantages, depending on the specific needs and goals of a project. 
2.1. Advantages
It is obvious that all businesses need websites for business development nowadays. It is necessary for you to have custom website development if you want your business to reach a large number of clients both inside and outside the country; no matter what field it is. In spite of being a businessman, an investor, a professional photographer or a lawyer, custom web development services are of paramount importance.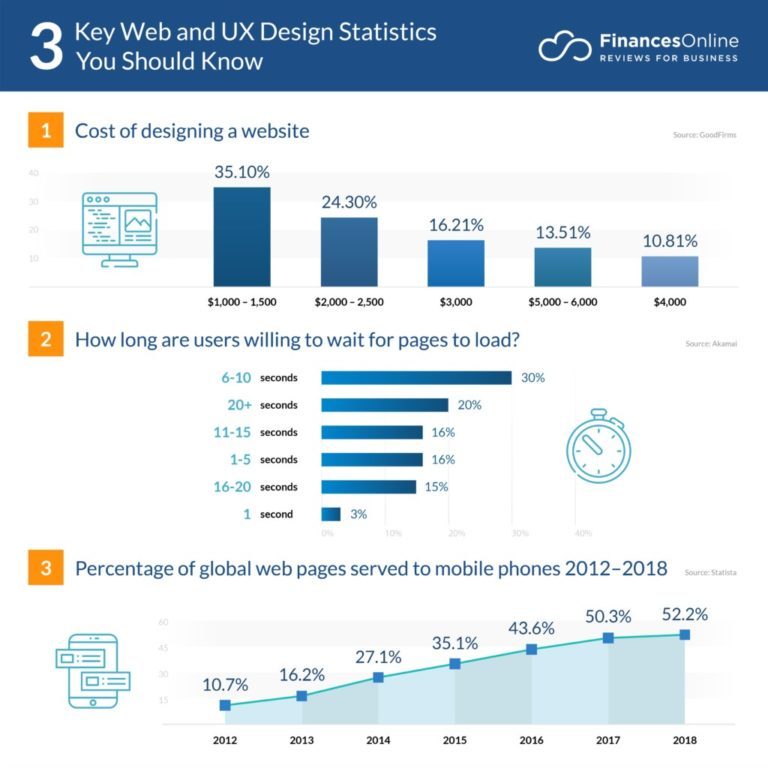 The charts illustrate 3 Key Web and UX Design that web owners should know, statistics conducted by Finances Online.
There has been a growing trend that a website is built along with a mobile app. Walmart, BigBasket or

Zomato perfectly exemplify this situation. Thanks to attractive and convenient websites, they have got huge profits. Moreover, doctors can arrange appointments using a web application. It enables them to clearly understand their schedule in the future. In other words, a website supports increasing leads or sales for the company owner.

It can be clearly seen from the statistics that when it comes to web design, the major points that one should specialize in take up a small proportion. Therefore, if you hire a company providing custom web development services, you can optimize your website and then sell more products and services. Moreover, the loading speed can be accelerated if the UI performance of the website is maintained at the best.

Another reason why businesses should outsource custom web development services is because of the growing number of people using smartphones. Because mobile users browse websites more frequently than desktop users, mobile commerce is more popular than desktop. It is clear that more people are using smartphones, which has led to a surge in e-commerce over the past several years. Moreover, smartphones are currently used primarily for browsing websites and using apps. People find smartphone web browsing convenient because it is quick and simple. As a consequence, you have to create a website that is entirely responsive. You can contact our web expert by clicking here if you want to learn more about developing responsive websites.
2.2. Disadvantages
Despite aforementioned advantages of custom web development services, here are some of the key disadvantages.
Costly: In terms of upfront expenditures, creating a custom solution will unquestionably cost you more. You'll need to appoint a group of web developers, invest time in planning your website, and then devote time to having it built. Although purchasing a template might be less expensive initially, you'll probably need to pay for licensing packages over time, keep an eye on frequent theme and plugin updates, and, to some extent, rely on the template creator.
Time-consuming: It takes time to design a website, to hire web developers, to create a website, and it will take time to make any alterations, bug corrections, updates, or upgrades. Much more so than when utilizing templates.
3. How to outsource efficient custom web development services
Outsourcing efficient custom web development services can be a strategic move for businesses looking to leverage expertise and reduce costs. To ensure a successful outsourcing experience, follow these steps.
Specific objective of business: This is the first thing you have to consider when it comes to web design and development for your business. As a result, outsourcing companies can offer appropriate custom web development services to your business and the field your business aims at.
Detailed plan and strategy: When you have defined specific goals for your business, the next thing you have to do is make a detailed and strategic plan. You have to identify who your targeted customers are? What pain points will your website cover for customers? Where is the website in your buyers' journey?
How much is your budget: Cost is one of the two top important factors that founders have to consider when it comes to business operation. There are many types of costs that you must consider such as running costs, costs of maintaining a website (if needed), and recurring hosting, themes, domain name, etc.
Conclusion
A website is crucial to the growth of any brand or business. Because the contemporary age is tech-savvy, you must brand your company in accordance with every move you take. Therefore, in our opinion, you really must employ website developers while creating a custom web development firm.