The Top Project Management Tools For Increased Productivity




The Top Project Management Tools For Increased Productivity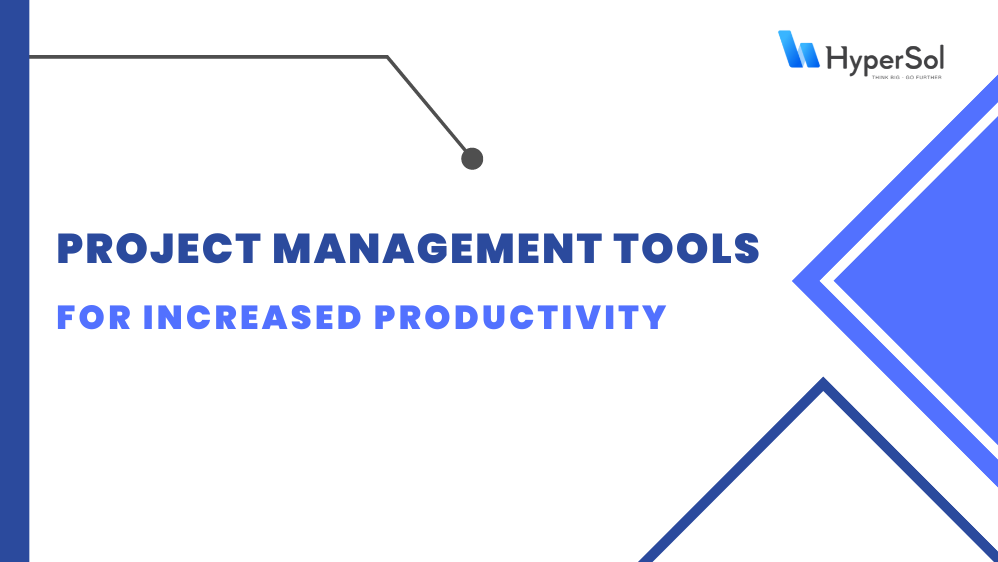 In recent years, there has been a growing trend that project management plays a vital role in the success of businesses. An efficient project management method includes planning, organizing, and distributing resources. However, because of several drawbacks of manual project management, project management tools are developed to mitigate these problems. Thanks to task management software, individuals or teams are supported to perform their tasks well.
1. Outstanding features of standard project management tools
Large firm project management teams juggle various activities, from content approval to collecting reports on project performance. Their duties will be made considerably easier by implementing project management software that can keep up with their particular needs. The best
risk management in project management software
requires some features.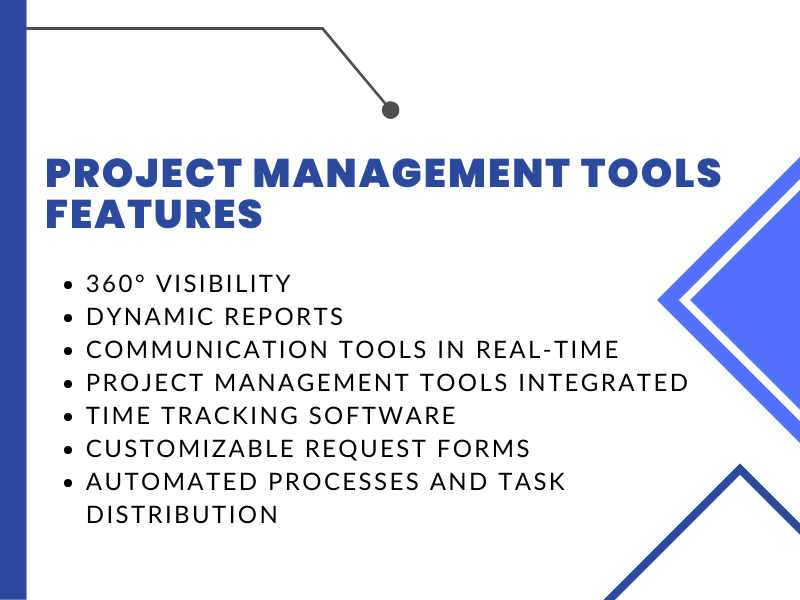 Project management tools provide 360° visibility into tasks and projects to keep up with the latest information.
Dynamic reports to get access to the information quickly
Communication tools in real-time for effective cooperation such as living editing and @mentions
Get all of your useful project management tools integrated, from Jira and SAP to apps for instant messaging
Time tracking software for resource planning improvement.
Customizable request forms allow you to centrally handle all incoming tasks.
Automated processes and task distribution for more effective procedures.
2. The top-rated project management tools for productivity increase
There are various choices of the best task management software for you to make. We have summarized some of the best management tools with their outstanding features, and prices so that you can have an overview of them.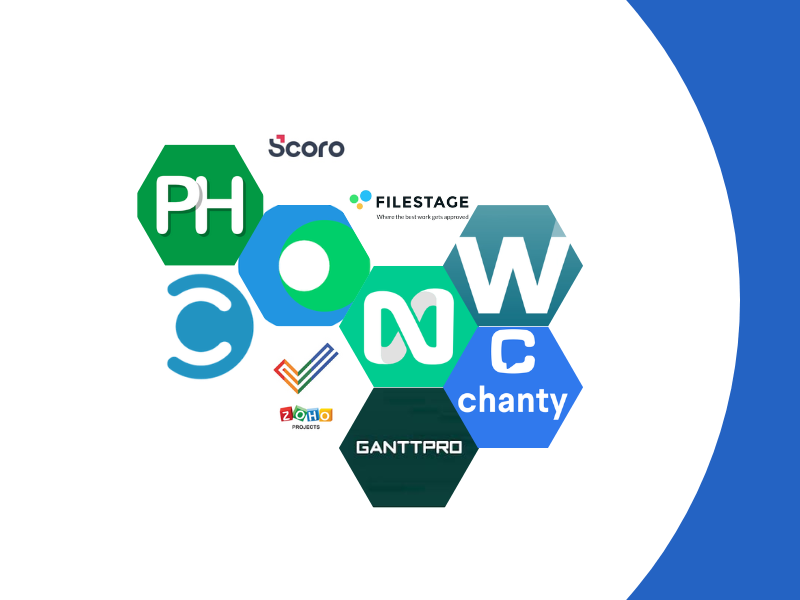 2.1. ProofHub
ProofHub is one of the flexible project management tools chosen by many large corporations including NASA, Disney, Taco Bell, etc. The tremendous capabilities in this all-in-one solution allows you not to rely on tens of different programs to complete your job.
Task management: Tasks can be distributed by managers in an organized and precise manner. Every task is accompanied with beneficial context points, which makes sure that the team members will always be aware of what to do and how to perform it.
Time tracking software: ProofHub project management tools have their own timesheets feature; therefore, members can track the time for tasks. When it comes to hourly projects, managers can draw up a plan for the project in advance. As a result, paying bills just becomes easier.
Project communication: There are 3 project management tools for communication that are Discussions, 1:1 Chat, and Group Chat. Team members can also express ideas and thoughts in task comments as an alternative.
Collaboration: ProofHub provides task management software in the form of an umbrella; hence, the cooperation becomes easier. Team members can send messages, update tasks, and work on the same page at the same time without switching windows.
Project planning: With Project Timeline Calendar and Gantt Charts, managers can regularly keep updated with the progress of the project.
Project reporting: Reporting is one of the project management tools help managers make well-informed decisions. The manager will always be aware if the team is underperforming or if a specific team member is running behind time. As a consequence, their decisions become more timely and of higher quality.
2.2. Scoro
In terms of one of the most versatile project management tools, people often highly recommend Scroro. Anyone who wants to bring structure to work, Scoro is an ideal choice for you.
Features:

A central location for teams, clients, and projects
Using efficient workflow, maintain order in every part of your firm.
Receive automated reports project management tools and a real-time summary.
May be combined with programs like Mailchimp, Outlook, DropBox, and others

Pricing: $33/month for a premium plan
2.3. Workzone
With a highly dedicated and skilled team of developers, Workzone is created to support organizations and individuals for better visibility and control in business management. Everyone can stay on the same page, which results from the central place Workzone project management tools provide.
Features:

Reports are top-level so that users can be aware of the next thing on the list.
Can easily share files, create tasks, and to-do lists increase teamwork.
Set permissions for various people, such as clients.

Pricing: $200/month
2.4. Filestage
Filestage is one of the project management tools for business marketing that allow teams to review and approve project deliverables as soon as possible. Filestage automates, streamlines, and ensures compliance with guidelines while streamlining feedback on deliverables throughout the proofreading process. Besides, it also allows clients and coworkers to consider and take notes of project deliverables.
Features:

Create dependable review and approval procedures.
Real-time comments can be made on audio, video, documents, and photos.
Clear version project management tools of deliverables
Using the project dashboard; thus, you can keep track of all deliverables.

Pricing: €89/month
2.5. Workbook
If you are finding project management tools, you should take Workbook into account. It is a grown-up software suite for resource allocation software, collaboration, CRM, file-sharing, accounting, and forecasting. You can opt for your exact needs and only purchase for it.
Features:

Easily set up projects and tasks
Easily tailor
Help clients with a portal.

Pricing: $19/month
2.6. Celoxis
One of the excellent all-in-one pm project management tools is Celoxis. It enables businesses to plan and keep track of all of their projects, portfolios, tasks, resources, timesheets, issues, and risks in one location. It includes many tools for cooperation, like a free client portal that may be customized. It has some of the best dashboards and reporting features on the market. It is highly adaptable, intuitive, and loaded with features. Celoxis is definitely one of the greatest Microsoft Project alternatives if you are familiar with its scheduling philosophy.
Features:

One of the all-in-one project management tools
Easily collaborate, share files, discuss and exchange comments with both clients and coworkers.
360° insights in real time with incredibly strong reports and dashboards
Easily intuitive and customize
An easy resource allocation software to tasks based on demand, availability, skills.

Pricing:

SaaS: $25/month/user
On-Premise: $450/user
2.7. Zoho Projects
It comes as no surprise that Zoho Projects is regarded as one of the best simple project management tools that can support clients to increase productivity just with a click.
Features:

Effective task management software
Gantt charts is created to supervise the progress of the project.
A single tool for teams to create, cooperate, and communicate.
Can be combined with Zoho CRM and different project management tools to manage different fields of the business.
2.8. GanttPRO
GanttPRO is one of the leading agile project management tools that are highly valued by over 250000 managers all over the world. It assists in creating project plans and timetables, monitoring workflow, managing budgets, adhering to deadlines, and setting up effective communication in one location. For a quick start, the solution provides ready-made Gantt chart templates.
Features:

Workload: resource allocation software
Collaboration: notifications, comments, attachments.
Workspace: Board view and Gantt charts
Easy start with templates of the projects.

Pricing: $790/month (annually payment)
2.9. nTask
nTask has just been brought into the market for a short time, and is predicted to develop significantly with AI and new functions introduced right after the tool is completed. One of the reasons why startups, entrepreneurs, and even businesses expect to use this project management tools is because of the design of the software is intuitive and easy to use.
Features:

Task & Project Management: Creation of task and project is simple with task checklists, updates, progress meter.
Risk Management In Project Management: Make identification and assessment of potential risks and their occurrence frequency. using ư risk matrix.
Issue Management: Create and manage issues using adjustable choices for severity, priority, and status.
Time tracking software: Weekly timesheets that are expertly constructed and have manual hours that are connected to the appropriate tasks or projects..
Resource Management: Using the Project Planner, manage the budget for the project and the currencies..
Meeting Management: Set up several meetings simultaneously, each with a brief agenda, discussion points, and upcoming action.

Pricing:

Free plan – Unlimited workspaces, 100MB storage
Pro Plan – $299, Unlimited everything
2.10. Chanty
One of these hybrid project management tools is Chanty, which serves as both a platform for team collaboration and a task management system. A task can be created from a message, given to a team member, given a due date, and given a priority rating. You enter a discourse about a task by engaging in task discussion. Additionally, audio and video calls are included in Chanty. The third-party apps Trello, Asana, Zapier, Google Drive, Dropbox, Onedrive, Github, Gitlab, Bitbucket, Mailchimp, Giphy, and others can all be integrated with Chanty.
Features:

Due dates
Kanban board
Task discussion
Task priority
Third-party integrations
Audio/video calls

Pricing:

Free plan: Up to 10 users
Business plan: $3/month/user