Most Reliable Software Development Outsourcing Companies In USA




Most Reliable Software Development Outsourcing Companies In USA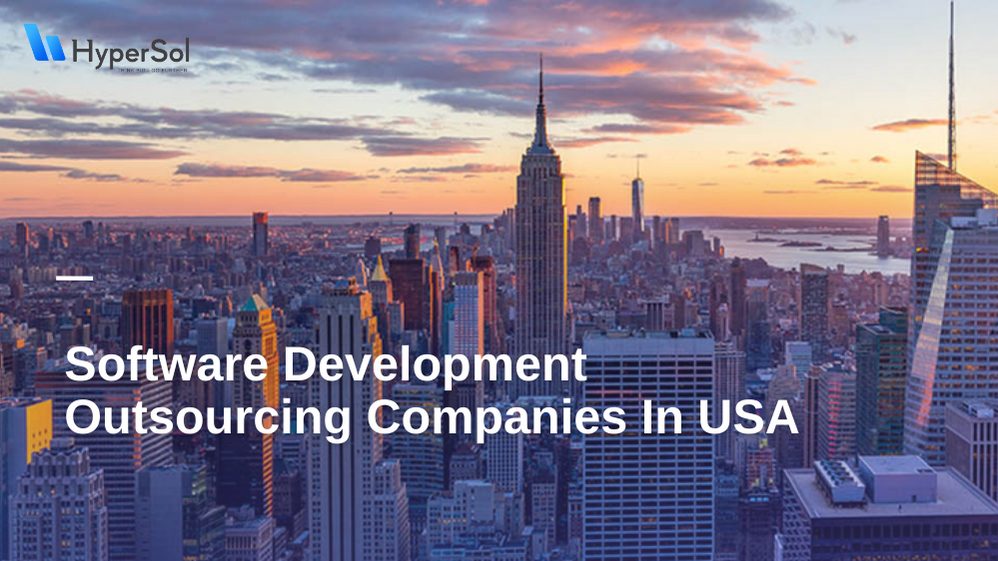 It is evident that software outsource companies are becoming widespread in the USA. Companies want to develop their applications and operate systems more effectively; therefore, they invest in outsource software companies. Moreover,
software development outsourcing companies in USA
provide excellent engineers and various field services.
1. Why should choosing software development outsourcing companies in USA
Outsourcing software development companies has become widespread because many businesses have realized the huge benefits they can get from it. If firms hire
IT outsourcing company
in USA, they can save a significant amount of time and money, and have a chance to meet and work with skilled specialists. For those who are looking for a streamlined software development process, software outsource companies are great choices.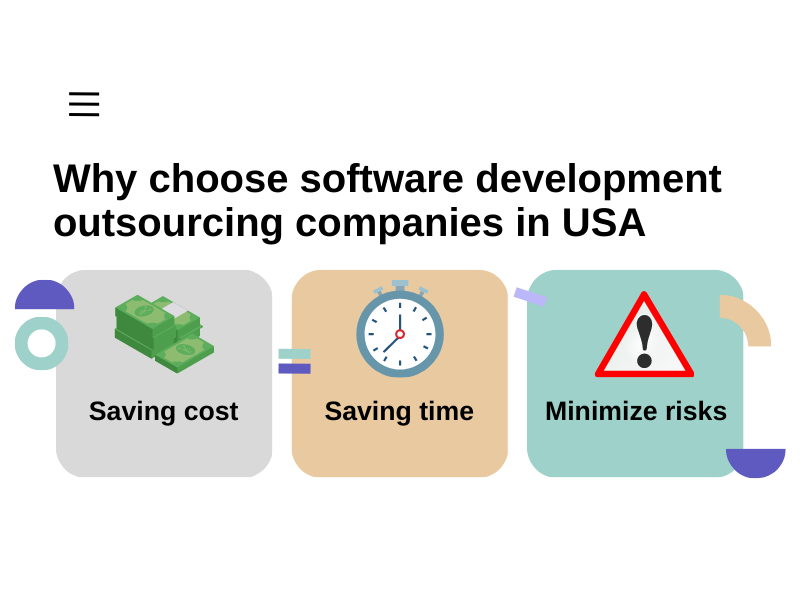 Saving cost: With software development outsourcing companies in USA, businesses can save their total costs, and the hiring and training of new employees costs. Moreover, the costs involved in the maintenance, reparation and upgradation of software also can be reduced.
Saving time: You will have an opportunity to cooperate with a wide range of specialists. Software development outsourcing companies in USA often assemble teams of developers with a variety of talents for they want to offer a wider range of services. This can involve creating unique software, creating mobile applications, creating websites, and more.
Minimize risks: The reason why software outsourcing companies in USA can help businesses reduce risks is that they are generally more skilled and experienced than in-house teams.
2. Top 10 best software development outsourcing companies in USA
A list of highly recommended software outsourcing companies in USA has been summarized by HyperSol IT outsourcing enterprise. These businesses have years of expertise working with clients from many sectors and industries to offer high-quality digital solutions.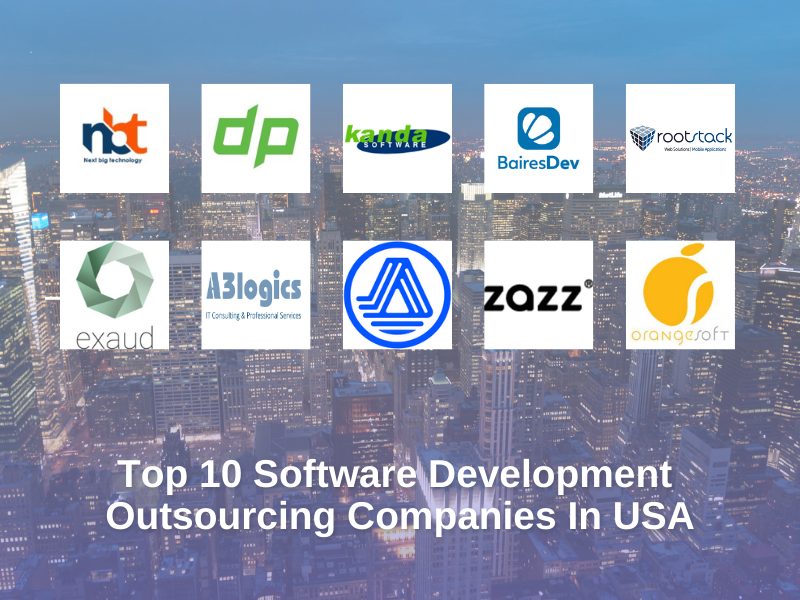 2.1. Next Big Technology
When it comes to long-experienced software development outsourcing companies in USA, Next Big Technology is always one of the preferred options. Established in 2009, NBT has now become one of the best software outsourcing companies in web development and design. They have a wide range of IT services so that customers can choose the most suitable solutions to their problems.
Web design solutions
Mobile Application Development
E-commerce Web Development
React Native Development
Ionic Development
CMS Web Development
Hybrid Development
IOS Applications
Android Applications
Cross-platform Applications
Offshore Outsourcing
Search Engine Optimization
2.2. Dev.Pro
One of the
software development outsourcing companies in USA
that offers custom software development, web apps, mobile apps, and other IT solutions is Dev.Pro. Dev.Pro makes sure to satisfy your
software development requirements and needs
with advanced technology and long-experienced and excellent programmers.
Software Development
Cloud Services
Mobile App Development
Web Design and Development
Blockchain Development
QA testing
DevOps
AI
Business Intelligence
Data Science
2.3. Kanda Software
Kanda Software is one of the software development outsourcing companies in USA that is highly recommended by both customers and expertises. During the evolution, the company has expanded its size across the border all over the world. It is one of the outsourcing software development companies that own a leading specialized team with deep technical knowledge of developers and engineers so that they can fulfill all customers' needs.
Database design
Cloud computing
Web development
Mobile development
Software Integration
2.4. BairesDev
One of the most respected software development outsourcing companies in USA, BairesDev provides top-notch services to clients in North and Latin America. With over 1000 workers and offices throughout 8 nations, the business offers professional solutions to businesses of all sizes. Here are software development outsourcing services that BairesDev offers.
Web development
Mobile development
QA software
Custom software engineering
DevOps
CyberSecurity
Staff Augmentation
Nearshore Software Development
2.5. Rootstack
When it comes to innovative software development outsourcing companies in USA, it is a mistake if we don't mention Rootstack which is headquartered in Austin, Texas. No matter what size your business is, Rootstack provides up-to-date solutions with its enormous resources and talent team.
Responsive Website Design
Web Development
Product Design
Managed Services
Cloud Consulting
CRM Consulting
Healthcare Software Development
Real Estate Software Development
2.6. Exaud
Exaud is one of the multinational software development outsourcing companies in USA of software solutions committed to advancing the success of companies of all sizes. The team of expertise engineers of Exaud can provide option development services, as well as technical support and assistance to meet the demanding requirements of customers.
Web design
Mobile app development
Product development
Social Network App Development
Digital marketing
IoT
Wearable Technology
2.7. A3logics
Among other software development outsourcing companies in USA, A3 logics have had more than 20-year experience in IT services. Irrespective of the size of business, their team of skilled experts is dedicated to assisting clients in achieving their business objectives. A3logics has access to a huge skill pool of IT specialists and can manage complicated projects with ease. They specialize in providing creative solutions to complicated challenges, including:
Software development for business
Mobile app development for business
Cross-Platform Mobile App Development
App development for education
eCommerce Development
Application Modernization Services
AI
2.8. Azumo
Azumo is proudly one of the multi-award-winning software development outsourcing companies in USA that offers cloud services and software development to companies of all kinds. The organization is based in San Francisco, California, and employs more than 200 experts in software engineering, systems design, and cloud computing.
Web and mobile application development
Custom software development
Systems Integration
Node.js Development
Cloud migration
Startup App Development
PHP Development
AWS migration
DevOps
Management services
Cloud Security
2.9. Zazz
Zazz is one of the software development outsourcing companies in USA with more than 10-year experience in mobile app development. Zazz has created hundreds of profitable mobile apps for a variety of platforms, for businesses ranging from startups to Fortune 500 firms.
Zazz owns cutting-edge technology so that they can develop safe, strong, and friendly mobile apps.
In order to fully comprehend the needs of its customers and guarantee timely and cost-effective delivery of their mobile apps, Zazz works directly with them.
2.10. Orangesoft
Another software development outsourcing companies in USA, Orangesoft, has performed more than 300 mobile app and web development projects. Their staff of skilled developers and designers is capable of completing projects of any scale, from small to big. They produce bespoke solutions that satisfy clients' objectives by utilizing the most recent technology and trends.
Educational App Development
Outsourcing Software Development
Eastern Europe Software Development
eCommerce App Development
Consumer App Development
Healthcare Mobile App Development
Wearable App Development