How To Become A Superb QA Software Tester




How To Become A Superb QA Software Tester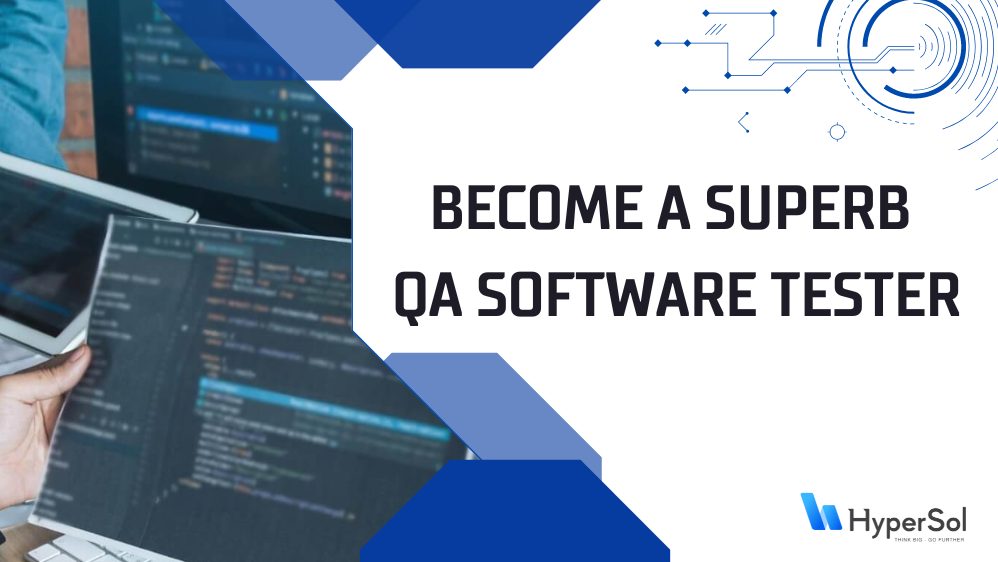 In the field of Testing, a QA software tester is the person who assures the quality of products. Therefore, they need to have great knowledge of the field. What is the main task of a QA tester? How to become an excellent QA tester? And how is the career promotion of a QA tester? All of your questions will be answered right here.
1. What is a QA software tester
A quality assurance software tester, also known as a
QA software tester
, performs tasks related to software or website QA testing to assure that software or website runs efficiently. They try to avoid erroring apps or other technology devices to customers.
2. Specialized knowledge a QA software tester needs to know
What tasks a quality assurance tester needs to perform and what specialized knowledge a software tester needs to acquire are presented below.
2.1. What does a software automation tester do
Software automation testers play an important role in the life cycle of software development to make sure that the products of an organization are high-quality and superior. Basically, a quality assurance tester takes responsibility for all phases of a product design and development in order to meet company requirements. Here are some of the main tasks a QA software tester takes on to make a contribution to their organizations.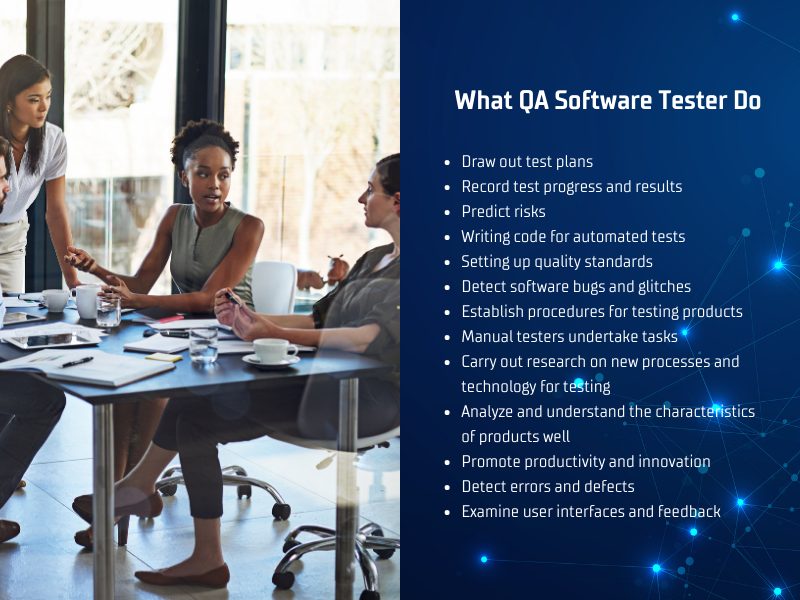 Draw out test plans
Record test progress and results
Predict risks
Writing code for automated tests
Setting up quality standards
Detect software bugs and glitches
A QA software tester will establish procedures for testing products
Manual testers undertake tasks
Carry out research on new processes and technology for testing
Analyze and understand the characteristics of products well
Promote productivity and innovation
Detect errors and defects
Examine user interfaces and feedback
2.2. Main types of testing
Although there is a variety of types of testing suitable for various projects, a QA software tester should be excellent in all of the following kinds of testing.
Usability testing
Performance testing
Compatibility testing
Security testing
Load testing
Functionality testing
Regression testing
2.3. Software testing models
It is necessary for a QA software tester to have a grasp of these main software testing models.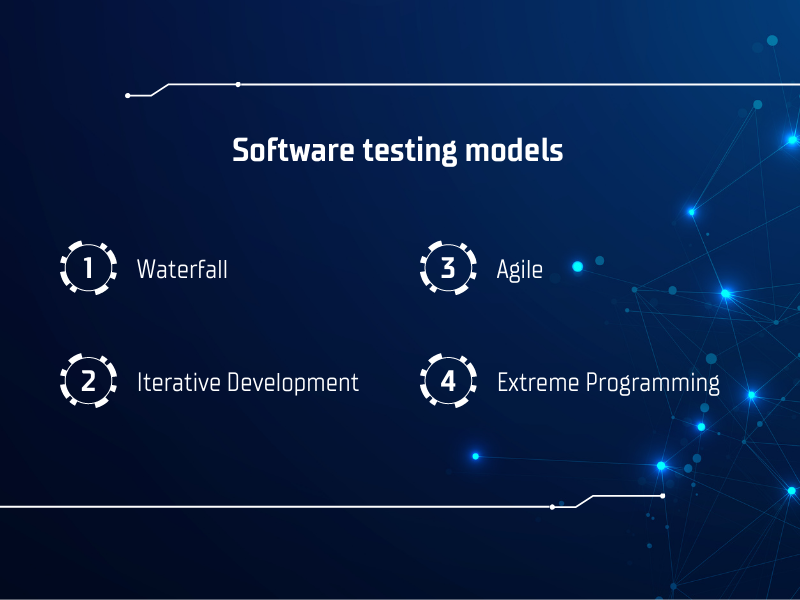 Waterfall: In the classic Software Development Life Cycle of the Waterfall model, a phase needs completing before moving on to the next phases. This lifecycle starts with a feasibility study. Analysis of the requirements and specification determination follow. The following steps are design, coding, unit testing, integration, and system testing. Lastly, the model finishes with maintenance.
Iterative Development: is a variation of SDLC, and has a more cyclical approach. The processes of planning and requirement gathering, analysis and design, implementation, testing, and assessment are incrementally repeated over and over again. Therefore, if a QA software tester is proficient in an iterative testing model, the subsequent iteration can be better more quickly.
Agile: Agile processes in software engineering is a team-oriented approach to quality assurance that puts the needs of the client first. Usually, this idea uses a gradual, iterative method. To adapt to changes in software development, everyone works in brief sprints and collaborates to identify the most effective approaches for achieving the project's objectives.
Extreme Programming: A QA software tester can work in the Extreme Programming environment. This method, which is an iteration of Agile, prioritizes client satisfaction. This QA testing approach explores solutions to solve issues as effectively as possible to provide software to users sooner rather than being motivated by a deadline or predetermined steps in a model. With an Extreme Programming model, testing begins as soon as possible.
3. What skills does a QA software tester require
In addition to specialized knowledge, a software automation tester needs to acquire the necessary skills if he or she wants to land a lucrative job.
Deliberation: If you are a deliberate person, you can assure to promote productivity, performance, efficiency, and satisfaction of customers. However, this skill can be improved over time if you know how to fully focus on work, ignore unwanted distractions, and develop organizational skills.
Organization and management: If you know how to establish structures and orders, you can assure efficiency and productivity at the workplace.
Good listener: A QA software tester should have an empathetic personality so that he or she can understand, and remember instructions and criteria that supervisors give them.
Communication: Generally, a software automation tester is not used to working in teams and connecting with their partnerships, engineers, supervisors, developers, and customers. Either this nonverbal or verbal method is essential because a QA software tester needs to argue for errors and defects with other people.
Problem-solving: In addition to spotting mistakes, quality assurance testers are frequently entrusted with determining the root of an issue and coming up with a fix. In this role, the capacity for both solo and group problem-solving is essential.
Deductive logic: Deductive logic concentrates on formulating conclusions or answers based on factual assertions or supporting data. If-then statements are a typical example of deductive reasoning and are frequently utilized in technological fields.
4. Career paths of a QA software tester
It is obvious that a software automation tester wants to get promoted and succeed after a while of gaining deep knowledge and hands-on experience.
4.1. Criteria to become a software tester
If you have soft skills and practical experience in the field of quality assurance tester, your job opportunities will be opened up. However, there are several rudimentary standards that you have to achieve.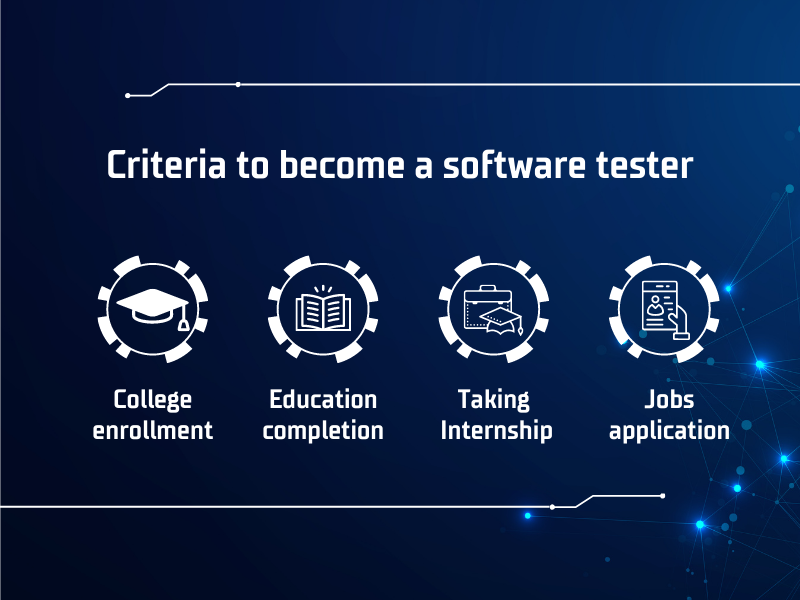 College enrollment: To determine the type of degree or certification you must have, take into account the requirements for the industry in which you wish to work. The majority of QA software tester positions demand at least an associate degree, and a bachelor's degree is advised to be a competitive applicant. Look into the local, accredited schools that offer the degrees you require. You can choose where to enroll by looking at the statistics that many offer regarding their graduation rates and post-graduate job rates.
Education completion: If you want to work as a QA software tester, picking a solid major is crucial. Choose a major that is appropriate for the industry in which you want to work after giving it some thought. For instance, you can think about earning a bachelor's degree in computer science, engineering, or math if you want to work as a software automation tester. Besides, remember that this is a fantastic opportunity to network and obtain credentials while you are still in school. For future employment and teamwork prospects of QA software tester, networking with your peers and teachers is crucial.
Taking an internship: An internship is a program that connects students and recent graduates with employers in their field to get professional learning experience. Positions can last anything from a few months to a year, with some being paid and others being unpaid. Freshers of QA software tester should take advantage of internships to develop their resumes and test their abilities in a particular field.
Jobs application: After finishing all academic requirements and gaining some practical experience, you can apply for software automation tester positions. Searching for job opportunities in the QA software tester area that draws your interest and suits your qualifications. To make your cover letter and resume feel more customized, create them with the job description for each position in mind. To find out about possibilities and recommendations from other professionals, interact with your professional network. If you receive many job offers, you can pick between them by taking into account your desired place of residence as well as the pay and benefits that each company is ready to provide.
4.2. Quality assurance testing salary
In the US, a
QA software tester
earns an average total yearly salary of 72662 USD. This figure combines the median reported supplemental income of 5707 USD annually with the average base salary of 66955 USD/year. Bonuses, commissions, and profit sharing are all forms of additional compensation. A QA software tester can work in a variety of professions within the
quality assurance testing
industry. Some of them are, together with their anticipated yearly salary:
QA engineer: 82591 USD
Test manager: 149969 USD
Test engineer: 86211 USD
Test analyst: 92276 USD
Test automation engineer: 104656 USD